The Splash
Keeping You Current
Weed Harvesting Schedule

The following dates coincide with the map to the right for when you should expect the weed cutter and/or EcoHarvester in these areas.

Starting Monday 7-12-21:
July-12: #1
July-13: #1
July-14: #2
July-15: #3
July-19: #4
July-20: #5
July-21: #6
July-22: #1
July-26: #1
July-27: #2/#3
July-28: #4
July-29: #5/#6

Interested in Becoming a Commissioner?
Please click below for ways to apply. Two commissioner spots are open for election.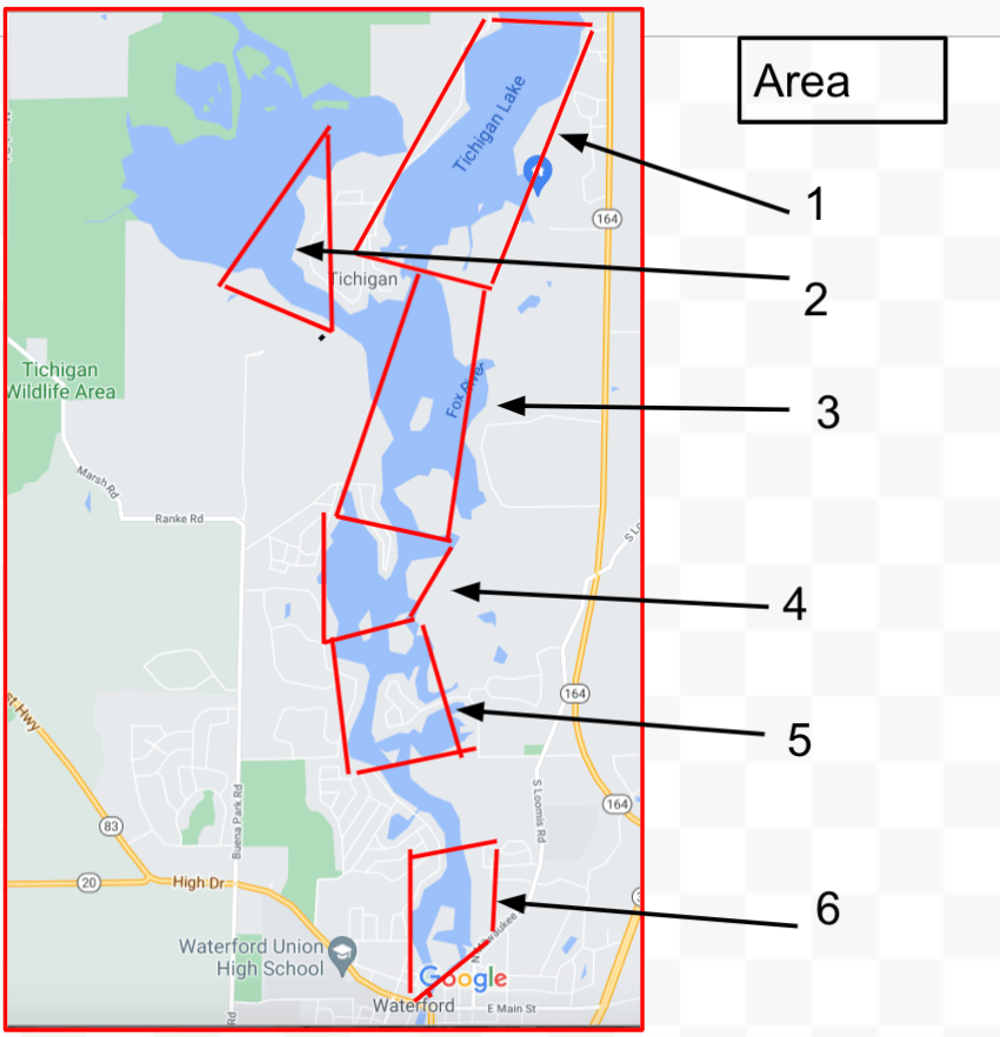 Welcome to the WWMD
Mission: Maintain, protect, and improve the quality of the Waterford Waterway, its fisheries, its watershed, and boundaries; while maintaining the highest possible quality of living experience for its residents.
The district includes Tichigan Lake, Conservancy Bay, Buena Lake, Waterford Lake, and the Fox River.
Small Scale Dredging Project
Learn More About the Project
Project Description
The objective of this project is to address and improve water depths in areas adjacent to the channels already identified in the past as requiring dredging, but at a smaller scale that may be approved and funded at a faster pace than previous dredging efforts with minimal or no engineering/consulting costs. The project would follow the guidelines of an existing DNR dredging permit for individual riparian owners allowing up to 50 cubic yards of sediment per property to be removed each year for the next three years. One permit per year will be filed for approximately 500 owners, at a cost that the majority of owners will agree to by vote, which would then be added to tax levies.

Below you will find a variety of information related to the project. For a complete project description please click below. Project Brief
Life on the Water
Send us photos of your Life on the Water
Our waterway offers an array of outdoor activities all year long. We would like to see how our owners and local community members utilize the waterway throughout the year. Your photos could be featured on the website and social media.
The EcoHarvester Costs
EcoHarvester: $88,849
Trailer: $38,000
4WD Truck: $25,000

The DNR has requested a live demo on our waterway prior to permitting approval. (Learn more by clicking below).

DNR Demo: $4,200

Partnerships in Action
"Waterford Police Department Patrol Boat Gets a New Look"
The WWMD board of commissioners approved financial assistance to the Waterford Police Department to make necessary upgrades to their patrol boat. The WWMD's funds were used to wrap the boat in new "clearly" identifiable markings, a new light system, and a PA system. The WWMD is committed to improving safety within the watershed and this was an important step in ensuring increased safety.